Our teammates have these qualities:
Problem Solving Skills – you can find solutions to anything. You've shown that you have the ability to make quick decisions based in reason.
Dependability – If you make a promise, then you keep it. We can rely on you to be at work, in uniform and on time every day.
Love for Money & Achievement – you're determined to make more money by working hard, achieving goals, and getting outside your comfort zone.
Loyalty – you're not one to jump around from job to job. You have long term relationships in your personal and professional life.
A Commitment to Safety – we rely on you to be able to safely get to work and drive your teammates around so a valid driver's license is a must. You'll also need to pass a pre-employment drug screen so we can keep the professional integrity our client's desire.

Career paths available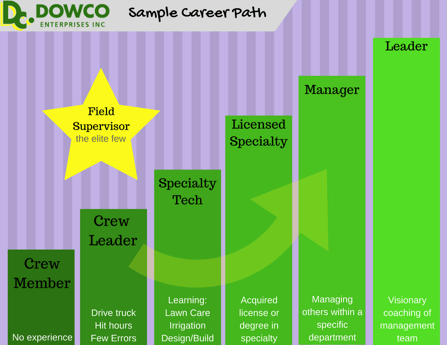 Pay Ranges:
Crew Members start at $13.20/hr.

Licensed Special Techs start at $16/hr.

Managers start at $45,000/yr.
Your pay will be determined and increased with your proven knowledge, skills and ability.
Benefits
We've got you covered! Your benefits include:
Top salary – Pay increases based on skills & experience

Opportunity for bonuses and overtime

Paid vacation time

Paid holiday time

Certifications training

Retirement plan

Extensive on the job training

Make friends

Clean trucks & top of the line equipment

Ability to advance your career & learn new skills

Free access to Dowco Academy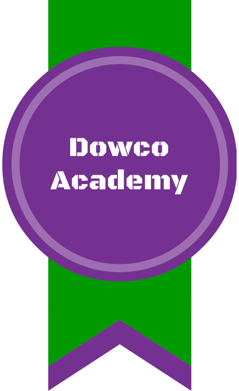 We will provide you with an environment that is fast paced where you're able to continue your growth. For all of our St. Louis lawn and landscaping careers, we focus on training for both the skills of your job and leadership training. You will be surrounded by people who love what they do and know how to do it.
We offer outstanding working conditions for every St. Louis landscaping career that we have. You'll have safe, clean, and convenient surroundings. Best of all, you work in a fun, drug-free environment with the highest quality vehicles and equipment!
Our eagerness to grow is your potential for advancement. There are always new opportunities opening up here. Get on board now so you don't miss your chance to grow with us.
Dowco is an equal opportunity employer.
What we're hiring for...
Our career growth path starts with employees who have little to no skill set all the way up to those with college degrees! Your starting wage will be dependent upon how well you interview and increase if you have any of the following skills:
Horticultural knowledge (ex: plant identification, pest identification, proper trimming and pruning techniques and the ability to train them, turf identification and the best cultural practices, a strong understanding of the function and application of fertilizers and pesticides, understanding of design/build practices and processes, basic understanding of irrigation systems and applications, etc)

Basic computer and iPhone knowledge. Responsive to email and proactive with phone calls.

Equipment Operation Knowledge (ex: chain saws, skid steers, wheel loaders, plowing and salting, commercial mowers and lawn care machinery, etc)

Licenses, formal training, or certifications (ex: Licensed pesticide applicator, CDL, college degrees, etc)
Once you're hired
You'll receive weekly skill development training with the entire team. We also have morning stretch meetings to keep everyone on the same page and recognize the people who have gone above and beyond.
As a Dowco employee you're eligible to participate in Dowco Academy for free to improve your personal development. Our monthly workshop topics include: financial budgeting, motivation, emotional intelligence, goal setting, buying a home/car, and more! Personalized coaching sessions with your manager will help you become stronger in the work that you do on a regular basis so that you can move up the career ladder and make more money.