Landscape Design Leader Job Description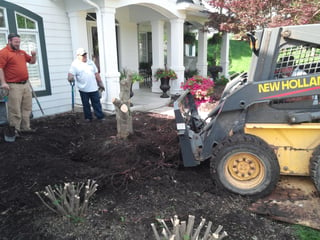 Dowco's landscape design crew leader is responsible for providing top quality lawn & landscape maintenance for our clients while achieving their production goals and training their crew member.
This position is a fast track stepping stone to the field supervisor position!
Due to an increased demand for beautiful outdoor living spaces our company has decided to expand its design build portfolio and we are looking for the right individual to lead our top landscape design build crew.

The ideal candidate has a strong background in the installation of retaining walls, pavers, outdoor fireplaces, natural stone and landscape lighting. They are also highly skilled in the operation of excavation and construction machinery. The ideal candidate is a craftsman who takes pride in completing a quality job within budget. They are a problem solver who can react quickly to change or adversity and they are able to train others in their craft.

In the landscape design leader position you will be working with and leading one to two crew members. You will be responsible for completing all jobs within the budgeted hours and to the quality expectations of the Senior Designer and Production Manager. You will be responsible for keeping track of materials used, on the job training of your crew, and ensuring all projects go in as specified in the designs.

At Dowco Enterprises, Inc. we will provide you with an environment that is fast paced and continuing to grow. We focus on training, both industry training and leadership training. You will be surrounded by people who love what they do and know how to do it. Our eagerness to grow is your potential for advancement. There are always new opportunities opening up here. Get on board now so you don't miss your chance to grow with us.
Landscape Crew Leader Knowledge, Skills & Abilities Required:
Knowledge of proper building techniques and installation of retaining walls, pavers, natural stone, fireplaces
Skilled operation of excavation and construction machinery
Ability to lift at least 80 lbs multiple times throughout the day
Experience managing a design build crew
Can read landscape design plans
Basic Plant Knowledge
Driver's License & reliable transportation

High school graduate preferred.
Clear knowledge of the Dowco Differences.