Overseeding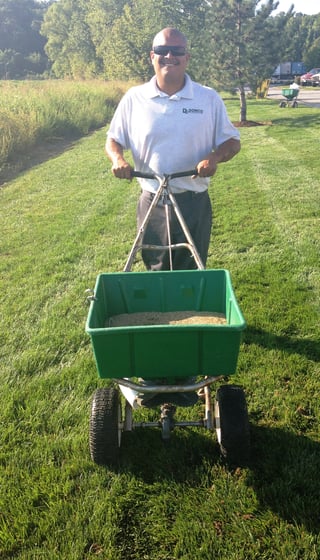 Over time, grass plants reach their peak and need to be replaced. Different factors contribute to the break down of the grass including foot traffic, heat, lack of water, environmental conditions, pet waste, etc. Introducing new grass seed will fill in bare or thin areas as well as thickening existing turf. The best defense against weeds, drought and disease is a thick, lush turf.
The best time to over-seed is in the fall. Mother Nature provides us with more precipitation and cooler weather, diseases are less active, and the soil is still warm. Spring is the time to apply pre-emergents and your desirable grass seeds typically lose the battle against pre-emergents. Aerating is an important factor prior to over-seeding and the aeration will break the barrier provided by the crabgrass pre-emergent. Additionally, the seedlings often do not have enough time to reach maturity before the heat of the summer hits.
Many lawns in the St. Louis area were originally installed with Bluegrass sod. Introducing a Fescue blend will help to resist insects and disease. Fescue is proven to provide superior drought resistance, works well in sun and shade, and exhibits early spring green up.
Dowco will overseed with a high-quality tall Fescue blend seed which is drought tolerant, works excellent in sun & shade, and exhibits early spring green up. Dowco technicians will apply seed more generously in bare and trouble spots, typically located along the driveway or in high traffic areas. After aerating, Dowco will seed your entire grounds with at least 5 pounds of seed per thousand square feet which is a heavy rate.
The primary benefits of lawn overseeding include:
Fill in bare or thin spots
Improve turf density
Enhance lawn color
Better resistance to weeds
Improve insect resistance
Increase resistance to drought
Seed Starter Mulch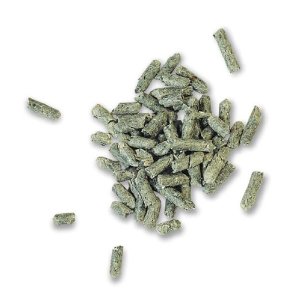 Seed starter mulch pellets are made of recycled paper that breaks down naturally without robbing the soil of nutrients. This product will reduce water evaporation and run off ensuring that the seeds stay moist, which is essential for germination. It also serves to keep the birds out.
Water control is extremely important in seed establishment. The starter mulch is a great tool for property owners to use as a gauge of their watering. When Dowco first puts down the starter mulch it will be a grey color like the photo shown above. It will start to fade out to a near white color as it begins the decomposition process and reaches the end of its useful life.
Unlike straw, starter mulch contains no weed seeds and will not blow away in wind. It is also biodegradable and requires no cleanup.
Seed Germination Fertilizer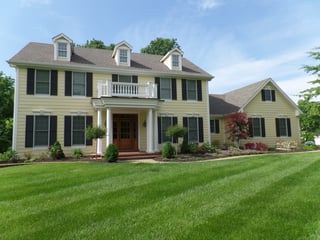 This application will jump start the growth of the new seedlings so they can germinate before winter. The fertilizer is specially formulated for new seedlings and accelerates root growth.
It improves the lawn's ability to soak up water and nutrients during the growth period. A great foundation is essential to a long life of your turf.
If you're on Dowco's fertilization and weed control program, you have nothing to worry about. We'll take care of the scheduling and appropriate treatments for you. No weed control products will be used if new grass seed was applied.
Lawn Composting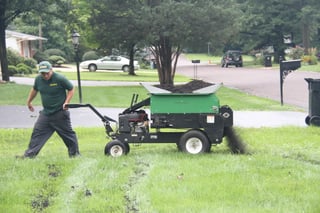 Dowco's newest lawn composting service was designed for eco-friendly property owners who want the greenest lawn! It is a process that incorporates a thin layer of rich, earthy, organic material to your existing lawn. This material, called compost, is the end product of a complex feeding pattern involving hundreds of different organisms, including bacteria, fungi, worms, and insects. What remains after these organisms break down organic materials is the rich, earthy substance that gardeners value so highly as a soil improvement.
There are many reasons why you should add compost to your lawn and here are just a few:
Enhances Grass Growth Naturally
The nutrients in compost, such as nitrogen, are at much higher levels than regular fertilizer. Compost has lower salt content than fertilizer and doesn't burn the lawn like fertilizer can.
Compost helps plants grow longer roots which assist in conserving water. You could use 30% less water to water the lawn because the compost helps hold moisture in.
Stronger, healthier grass plants grow densely, reducing the space for opportunistic weeds to grow.
The composting process enhances the reproduction of beneficial bacteria, which causes high temperatures and reduces oxygen, thereby killing viruses such as E coli, salmonella, and other harmful bacteria. It kills disease and the pathogen by "cooking" the material over a long period of time (1-2 years).
Compost amends clay soil (prevalent in St. Louis) by introducing organic matter that clings to the clay particles and splitting them up. It then introduces micro-organisms that eat the organic matter and create byproducts which further loosens the clay and helps it breathe. When your soil is able to breathe, the grass roots can make better use of the water and nutrients we're feeding the lawn.
It all sounds great, right! But, composting is not for you if you're not interested in the bigger picture – When we leave you'll have a bit of a mess of compost laying on your lawn and you'll have to tolerate it looking like "crap" for about a week or so. If you have a party or you're taking pictures of your lawn to sell the house, you won't want this service. Watering it in will help with the appearance. Also, if you can't afford it – it's not a cheap option, but we know that cheap doesn't always equal best. The results we've seen by introducing compost keeps lawns GREEN and lush!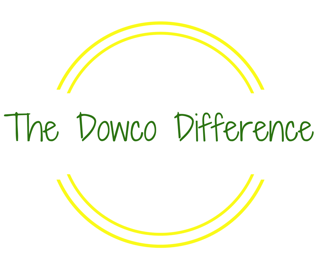 Dowco guarantees your results. We guarantee you'll see results within 14-21 days, when serviced by October 10th.
Dowco's complimentary spot seeding. We'll return within 30 days of your aeration and overseeding to spot seed any trouble spots or bare areas, just to be sure. You don't even need to call, this happens automatically!
Dowco will upgrade you to a double aeration with the purchase of seed, for free! A double aeration plugs more holes into the ground to help reduce soil compaction and to allow for better seed germination.
Dowco makes scheduling easy. Our online scheduling option is simple to use and you don't need to be home for the service. Once you approve, we'll send you confirmation and reminder emails with helpful tips on how to prepare your lawn for its big day.
There is no ongoing contract required! Just sign up for our full renovation or aeration service this fall to test us out with no obligation. This is the only one-time service we offer to non-clients!
St. Louis Weed Control Free E-Book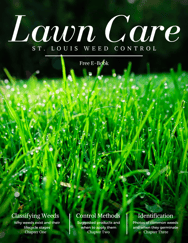 Want to learn more about lawn care and weed control for your St. Louis lawn?
Find out how to classify weeds, control them with pre-emergent or post-emergent herbicides, and identify 9 common weeds in the midwest region with this free e-book influenced by our horticulturists on staff.