Dowco's Irrigation inspections are perfect for the property owner who doesn't have the time or knowledge to modify their sprinkler system as the seasons change. Inspections are offered at a discounted rate for proactively managing your water usage.
Springtime in St. Louis means cool weather, moderate amounts of rain, and sun for about 12 hours a day.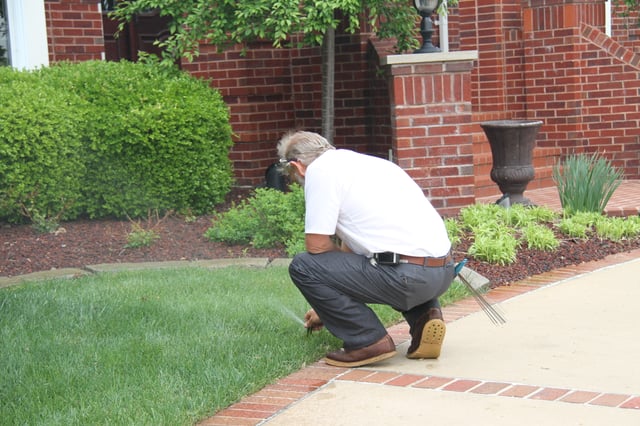 Then we move into summer and the days are longer with 15 hours of sun. The temperature is in the high 80's, 90's and even some 100's. It is important to have the system watering at the correct times of the day so you are not losing water to evaporation.
The spring showers are long gone and now is the first time to have your system inspected to adjust the cycle times for longer days and hotter weather. Dowco will walk through the entire system and check all your heads to make sure they are covering the areas they are supposed to; and not watering the street, sidewalk, driveway or the neighbor's yard.
Average irrigation systems run for 150-200 days per year in St. Louis and under 90-120 pounds of pressure. That takes a toll on moving parts and connectors and they need to be periodically inspected because they can fail at any time.
Dowco's Irrigation Inspection Service Includes:
Adjust cycle times for weather changes

Walk the entire system and check all of the heads for proper coverage

Check for sprinkler system failures or malfunctions

Look for overly dry or wet spots in the lawn and landscaping

Unclog rotating heads or nozzles as needed

Recap the system and make recommendations to repair or enhance the system
Irrigation Inspection Process:
You will need to be home in order for the technician to get to the control timer (usually in the garage). We also encourage you to walk the system with the technician to discuss needed repairs and ways to optimize the system and the coverage provided for turf and plants.
When fall weather arrives and the temperatures cool off, we will want to ensure that we're not over-watering to be fiscally and environmentally responsible. This is when we schedule the next irrigation inspection.
Dowco's irrigation inspections are provided at a discounted rate as a reward to our proactive clients. We will provide you with a recap of the system and any recommendations to enhance or maintain the system.
Price of Irrigation Inspection Service:
Dowco's irrigation inspection rate is $55 for the first manhour. Parts are billed separately.
Any time spent over 1 hour is billed in 15 minute increments at our normal labor rate of $99/manhour. This will be approved by the property owner and technician before performing elaborate repairs.