The battle against winter just got easier.
When snow falls, Dowco is the best company for snow removal & ice control in Chesterfield, Missouri.
Not able to walk up to the front door of your office building? Then you know how important reliable and timely snow removal services are!
Our Chesterfield snow removal service team of works year round to ensure that we have top quality professionals on staff through the winter who go through detailed snow removal and ice control training to provide services that exceed your expectations. We focus a lot of our efforts on understanding our clients, their hours, their schedule, their priorities, and needs.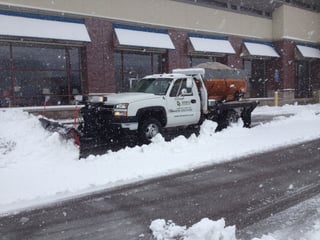 At Dowco Enterprises Inc, we offer complete winter commercial snow removal solutions for our clients to ensure your safety.
Our services include snow removal, plowing, shoveling, and application of salt or melting agents. In larger residential communities such as town homes, condo or apartment complexes, Dowco uses commercial grade snow plows to remove, haul, and relocate snow.
Our team is experienced to handle every type of snow storm with our state of the art snow removal equipment. We are available twenty-four hours a day at your service throughout the entire winter.
Upon signing up for our service, the Dowco team will check out the location, carefully noting obstacles and other areas that need attention to ensure safety and meeting your expectations. These areas will be staked prior to the winter seasons to prevent damages.
Relax and enjoy snow-free walkways and parking areas with Chesterfield's best snow removal company. We take care of all the tedious tasks for you of snow plowing, snow removal, and ice control, so that you can travel easily and safely.
Our Snow Removal Service in Chesterfield, MO Process Includes:
We employ a 3rd party private weather forecaster, various internet outlets and our many years of experience to determine the best way to treat your property based on current conditions. Leave it to us and it's simple as one, two, three!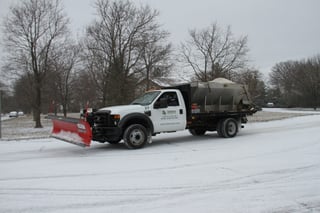 ONE -- Your property will be staked prior to winter to prevent damages. Emails are sent out prior to events to keep you updated on our course of action.
TWO -- We will treat the streets and pay special attention to high volume traffic areas as well as intersections to melt snow and ice. All corners will be plowed tightly to allow maximum street use and entrances will be cleared.
THREE -- Upon completion of the snow removal event, you will receive a snowfall document within 48 hours that describes the situation, accumulation, and Dowco's actions.
Dowco Provides Reliable Snow Plowing and Ice Control for:
businesses
apartment complexes
churches
condominium buildings
parking lots
subdivisions