What to Talk About at Your Dowco Site Visits
The statement made famous by Dorothy in the classic movie The Wizard of Oz is true, "There is no place like home." And with that, there is no one that knows your home like you do. This very concept is the basis on why regular site visits with your Dowco are extremely important.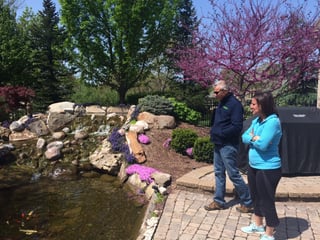 During a site visit with Dowco we will tour your existing landscape and discuss your requirements and expectations. Our goal is to bring your vision to life to best reflect your personal style and preferences!
At these meetings, in addition to providing feedback on your own ideas, a Dowco representative will share their horticultural knowledge when it comes to general layout, maintenance practices, and enhancement ideas. To us, it is seen as a time to learn from you and collaborate with you on what it will take to keep your business through the season and into the next year.
If you are a relatively new client to Dowco, it is important to remember that while we have professional experience in landscaping as a whole, we are pretty new to your particular property.
Some topics that might be important to discuss include:
Do you have any specific items, plants, or areas that require special attention for any reason?
These reasons may range from an area having poor drainage to a special lawn ornament with sentimental meaning. If you've been wondering about a leaning tree, a wet spot, discoloration, weeds, an overgrown shrub or other solutions this is the time to get answers!
Do you have any upcoming events that may require special services or timing?
Many times we will be able to work you into a different schedule if we have advanced notice. Let us know if there a specific day/time that you want your services completed (or not completed).
How do the different areas of your landscape function for you and your family?
This vital information gives us an idea of how to best utilize the space for YOUR needs. For example, if you'd like to hang out in the backyard, but not while the neighbors are home, then perhaps we can design a privacy screening or water feature to drown out the sound.
Do you lean towards a certain style when it comes to your landscape?
This usually comes up in conversation, but it's nice to have an idea in mind of whether you prefer formal, natural, bold, or a specific color. Click here to read more about identifying your landscape style.
Can you provide feedback for us?
If you never tell, we'll never know. What are the crews doing that you particularly like? Where can they make improvements? Where have we missed the mark? The responsible contractor always aims to make improvements!
Have you had any special landscape design projects on your mind?
The initial site visit is a good time to answer any questions pertaining to this. Project scope, budget, and design goals are all important topics that affect the overall design process. These items together will help determine the level of design necessary and the planning that is appropriate.
Finally, if you don't know plant names or how to verbalize what you like, come prepared with pictures of landscapes that catch your eye! Photographs are a great way to give a sense of what you would like to achieve from both a maintenance and design/build standpoint. You may not be able to vocalize what exactly it is about the photo that you enjoy, but we can! And we'll even let you know if that will work in your space or a similar option for you.